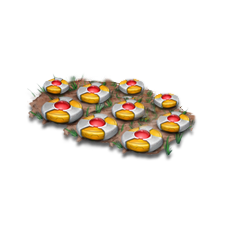 "

"Invisible to the enemy until it is too late. Triggered when a Unit steps on it, deals large damage to a small area."
"Place close to buildings or use walls with gaps to group attackers into a small space, and then BOOM!"

"



 

— in-game description 
About
Deals lots of damage against ground units
Cannot be upgraded
Removed after explosion
The weakness of any unit is trapped, but once your units are high level, traps rarely present problems.
Tips
If you're low level, it's recommended to send cheap units to scout an area for traps before sending stronger units into the battle.
Leaving structures out in the open surrounded by traps is a good way to destroy units, as the enemy will place units there. This tactic is known as the 'Honey Pot'
Expansions
Other Types Of Traps
• These traps are crafted by completing the corresponding collection.
• Visit Collections Page or click on the traps thumbnails to see detailed info.


Traps are the most basic type of mines, other versions include:

Blue Trap
- This explosive device self-destructs with a burst. Deals higher damage to ground forces. Function exactly like regular traps, aside from the fact that they do 200 more damage.

Fly Trap
- "Chubi is a genius! He has managed to make this destroyer device fly!" Focuses on tanks. When triggered, it will fly up into the air and spin, shooting out bullets that do area damage.
Gallery
See Also
Community content is available under
CC-BY-SA
unless otherwise noted.