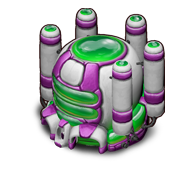 Building Description
"

"The Silo is a building where you can keep your minerals. Minerals can be collected from mines or by looting other players!"

"



 

— general description 

Tips:

You use minerals to activate and upgrade units, and attacking other players outside of your system.
Silos have the equivalent storage to it's counterpart, banks (when at the same level)
Silo is one of the best to hide Mortars best hideout for mortars remains the level 9-10 Compact House
Silo has the same health of banks when at the same level
Silos have more health that compact house and mine so it's one the most resistant building's in the game!
Now, since game update 0.84.2 silos got the funcion of collecting all minerals on your planets at once (by one click).
Expansions

To see detailed info on how to unlock each level, and the total amount of buildings per level visit: Building Level Unlocks at Star Base's Page.
| Levels | | | | | | |
| --- | --- | --- | --- | --- | --- | --- |
| Stage 1 | 10m | 760 | 750 | 7,000 | 4 | 1 |
| Stage 2 | 15m | 1,720 | 1,400 | 14,000 | 7 | 1 |
| Stage 3 | 22m 30s | 3,460 | 2,550 | 28,000 | 13 | 1 |
| Stage 4 | 33m 45s | 6,900 | 4,750 | 56,000 | 23 | 2 |
| Stage 5 | 50m 37s | 13,800 | 8,800 | 112,000 | 43 | 4 |
| Stage 6 | 1h 15m | 27,600 | 16,250 | 223,000 | 83 | 8 |
| Stage 7 | 1h 53m | 55,220 | 30,000 | 446,000 | 159 | 15 |
| Stage 8 | 2h 50m | 110,440 | 55,600 | 893,000 | 310 | 29 |
| Stage 9 | 4h 16m | 220,880 | 105,000 | 1,678,000 | 607 | 58 |
| Stage 10 | 6h 24m | 441,760 | 190,000 | 3,571,000 | 1196 | 115 |
Buildings Models
Gallery
See Also