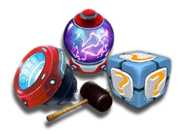 My Stuff is the player's inventory system which allows them to see which items, buildings and units they have.
Information
My Stuff is a window that can be accessed when clicking the box button in the bottom toolbar when in the players' main planet or colonies. It is separated through 4 different tabs that serves different purposes: inventory, collections, crafting and skins.
When a new item is obtained, it will make an notification bubble to appear at the top-right corner of the My Stuff button and in it's respective tab; the new item itself will appear with a red outline.
Inventory
The Inventory is a section that allows the player to view which items, building and units they have, as well as allow them to place the buildings or use the units saved there. When obtained, all items will automatically go to this section (except for collection / crafting pieces). Units can be saved in the inventory when completing missions or collections.
List of inventory items
Item
Description
Usage
Obtaining method(s)

Cooldown

Cost
A gratitude symbol that apprentices gift their mentors once graduated.
Hire another worker.
Received as a gift by graduated academy appendices.[1]
-
-
Workers need it, 'cause let's face it: we Starlings tend to trip over.
Collect from Compact Houses.
~ 30 minutes
20
You'd be amazed at the amount of tools that Workers store here!
Help friends.
~ 30 minutes
40
All Worker tasks need Mallet. Just watch out when they use it!
Destroy a Star Base (20% chance).
~ 30 minutes
80
Its powerful energy comes directly from the mana tree's sap.
Upgrading a Star Base.
Help or ask friends for it.
~ 30 minutes
-
No energy is more efficient to run a proper Star Base. Is it really Starling made?
Destroy a Star Base (30% chance).
~ 30 minutes
80
Open it to discover the gift inside! Send one to your friends, they'll love it!
Get free items.[2]
Giftable.
-
-
The source of power of the sphere is a true mystery but it is certainly strong in our turrets.
Upgrading Turrets.[3]
Destroy Mortars level 2 or higher.
-
-
Each capsule retrieves information from buildings in its influence area plus it detects mines. Mouse over those buildings to see their information.
Viewing other players' buildings information when spying.
2 are given daily, and they can be bought in the shop as well.
-
-
The members of this mercenary squad follow their captain's hunger for destroying defenses!
Offensive units.
Buying them in the shop.
-
20
This key opens the cages that imprison our Starling friends in Firebit's planet!
Free Starlings.
Received on "Save The Starlings" Mission Chain.
-
-
The strongest Starling, he works around the clock!
Adds the capacity to do one more task at the same time.
Trade in the Worker collection. It can also be a gift by the Galaxy Life development team.
-
-
↑

Appendices are graduated after obtaining level 15 within two weeks of the players' invitation. The academy and this item are Flash Version exclusives.

↑ Mystery Cubes can contain coins, minerals, Zeppelins, Colossus and Starlinators.
↑ Spheres are required to upgrade Sniper Towers and Cannon Blasts to level 11, Missile Launchers and Laser Towers to level 6, and Mortars to level 4.
Collections
You can find your collections in the My Stuff Box located under the Shop. They are in the "Collections" Tab. There are exactly 5 collections and every one of them has 5 items that need to be found to complete them. From Collections, you can get Blue Traps, Fly Traps, Starlinator, Colossus, Zeppelin and the two new recently added items: Cristal Fluid and Fission Device, that are needed to craft The Skull Nuke battle support weapon.
Since update 0.76.12 there is also a new attack unit called Green Beret which is available only by completing his collection.
Collection Items List
Click on the table's titles to see detailed info and

special features of each Reward Item.
Discontinued Collection Items List
Trivia
Fixed a bug that prevented some collectible items to appear in enemy bases.
Crafting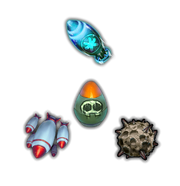 Description

You can find your Crafting collections inside My Stuff Box which is located underneath the Shop, on the "Crafting" tab. There are 4 Weapons that can be crafted: the Missile Rain, Boulder Strike, Skull Nuke and Freeze Bomb. You can also buy these weapons with Galaxy Chips
Facts:
You need to obtain 4 items for each one to be able to build them.
The required items can only be obtained by attacking; they can't be published on the wishlist, except for the crystals to craft (the parts of ) the Skull Nuke.
These are meant to make attacking quite easier and quicker.
They are weapons of massive destruction for battle support and cover a wide range of attacks, that have a radius from 2 to 9 (else 4-5 Banks/Silos in a line).
They will appear inside your inventory once they appear, you'll have to build them for later use.
Since Update 0.66.6 Boulder Strike appearance has changed, now looks more like an Asteroid. Its price on chips has also been changed from 4 to 8.
Crafting Items List
Missile Rain
"A powerful area attack that fills the sky with missiles". It is used while attacking and deals medium damage to more than one building or unit. If the enemy has a bunker filled with purely ground units and those units are anything short of a Colossus squad, one of these can pretty much neutralize the bunker garrison if timed properly. However, it may not destroy the building itself...
| | |
| --- | --- |
| Damage: 5,000 | Blast Radius: 8 |
Items
 Missile Rain Crafting 
Name
How To Get It?
Description

Missile Box
Destroy Compact Houses for a chance to get it
We use missile boxes for many things. Need a new toolbox?

Missile Pack
Destroy a Star Base for a chance to get it
Handle with caution. they have an explosive temper.

Engine
Destroy Mines for a chance to find one
Flying to target can be achieved with this useful component.

Red Button
Destroy Warp Gates for a chance to get it.
We need this to deploy the attack. It is an essential item.
Boulder Strike
"A huge rock that will shake the galaxy". A very powerful attack that can deal heavy damage to one target like Defense Bunkers or defensive towers like Mortar. It does have a slight AOE, about the size of the rock itself. Carefully positioned strikes can hit multiple targets, Targeting level 4-above Starbases are not recommended, as they survive it.
| | |
| --- | --- |
| Damage: 26,000 | Blast Radius: 2 |
Items
 Boulder Strike Crafting 
Name
How To Get It?
Description

Catapult
Destroy Defense Bunker for a chance to get these.
Throws objects as far as possible, but must be aimed accurately.

Rope
Destroy Training Camp for a chance to get these.
Let's see how it works... Strech and release!

Boulder
Destroy Cannon Blasts for a chance to get these.
Smash enemy buildings with this huge rock.

Timber Trunks
Destroy Sniper Towers for a chance to get these.
Essential for building a strong structure. Excellent raw material!
Skull Nuke
"Wipes out your enemies with a huge boom!" Buy it during a battle for a destruction boost!
The Skull Nuke is the last addition to the Starlings Arsenal of special battle support weapons. It is now lumped in with the crafted weapons, but you also can buy it for

200 Galaxy Chips.
| | |
| --- | --- |
| Damage: 4,000,000 | Blast Radius: 9 |
Items
 Skull Nuke Crafting 
Name
How To Get It?
Description

Binding Materials
Destroy Turrets, for a chance to get it!
These can't be missing inside the toolbox of any respected Starlin mechanic!

Starling kettle
Destroy Star Bases level 4 or higher, for a chance to get it.
It looks a bit archaic, I know, but it works like magic!

Crystal Fluid
Complete the Crystal fluid collection and get this as a reward.
Starlings use this powerful and dangerous liquid in their most lethal weapons!

Fission Device
Complete the Fission Device collection and get this as a reward.
This device is essential in creating nuclear power! Bring here those particles!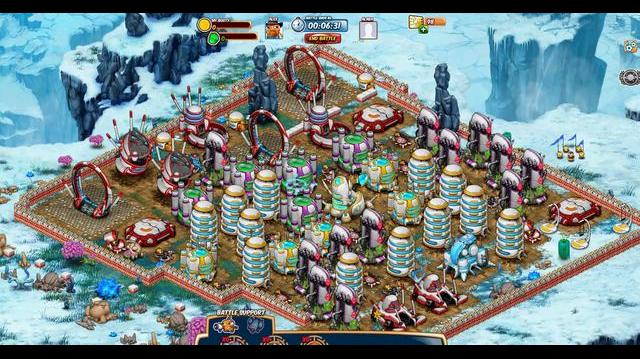 Tips
The skull nuke is the most powerful (and expensive) craftable battle support weapon available, to date.
Like the Missle rain and Boulder strike, it's now craftable

(after the

game 0.59.7 update

).

Be aware of where you deploy it, as it irradicates your friendly units, as well.

It's not advised to openly spend credits on nukes, as it's not really worth the price (200

)
Crafting the Crystal Fluid and Fission Device can be easy enough if you attack planets with turrets often, and have planets that are all of the different types (i.e. green, blue, yellow, red, white, and purple)
Buying parts with chips is best, crystal fluid and Fission device cost 50 chips, buying parts costs 5 chips, so it is best-buying parts than the full one.
Gallery
Gallery
Trivia
Since Update 0.66.6, Boulder Strike appearance has changed, making it look more like an Asteroid. It's price has also been changed from 4 to 8.
Community content is available under
CC-BY-SA
unless otherwise noted.