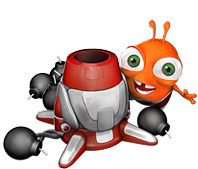 "

"We Love Explosions: The Bigger, The Better! Our shiny mortars and precious bombs will make sure we leave no enemy ground units alive!"
"Anti-ground Defensive turret. When its projectiles hit the ground they deal massive area damage."

"



 

— in-game description 
About
Can't attack Aircrafts.
It is currently the most expensive turret and the last one you can get, coming just after the Freeze Turret.
You can build a maximum of 3 Mortars per planet.
It's the only turret that doesn't need to rotate.
It requires Star Base level 5 and 232,500 to buy.
It's the smallest turret in the game.
Tips
This tower is able to kill Colossus within a few shots.
It's the King of killing ground units with the Most number of troops that can be killed/Destroyed  but the exception is S-Trikes because they can easily dodge the shells.
It should ideally paired with a Missile Launcher, a Laser Tower or a Sniper Tower, preferably a missile launcher.
Because this is the most powerful of all Turrets, you don't get much XP for destroying it!
It could be called the ground version of a Zeppelin for defense (with much larger range!)
Hiding this destructive tower behind buildings can result to a surprise to any unaware attacker (If he/she is using ground units.), little do they know about the surprise when they drop their units.
Putting it next to the Star Base is a very common and effective way to defend it.
It can kill Troops in 1 hit (Starlinator may survive it depends on the level, for example, Starlinator Level 7 can survive one hit from the Mortar), Vehicles might be taken about 2-5 hits depends on the level, it was also seen it can kill Freezed Level 4 S-trike, it takes 1 hit
Like the Cannon blast, it's hard for them to hit S-Trike, so it's recommended to place a Freeze Turret near it.
Falcon is this turrets worst nigthmare so make sure that you protect this defence with a missile launcher or  a high level Sniper Tower as they both can shoot air units such as the wasp. S-Trikes however can outrun mortar shells, so they are also a threat.
It can easily get distracted, since it has a slow and inaccurate attack, when firing at units at high speed.
It's best to put these some where near or at the center of your base because they can take out enemies at long range, putting these in the middle you can almost cover the whole base with mass destruction.
It has a slow reload, so better to protect it.
It costs only a few minerals , but at the same time a lot of coins, so this is the best turret to upgrade with if you have many coins, even if your minerals are running out .
Put this with a Freeze Turret and a Missile Launcher near your Star Base, and your enemy will have a hard time defeating you!
The mortar is able to destroy a colossus very easy.They destroy a Level 1 colossus in six shots when 1 Level 1 mortar attacks it. Many of them (level 5 and above) Colossi is an effective way to destroy it due it slow firerate and the Colosi large amount of health points due to their Tank housing which has high armor.
Watch out, Level 3 to 6 Zeppelins can destroy this easily because Mortars cannot target Air units and because of the Gravitational pull of the planet.
To put 3 mortars in even place can be extremely fatal in the units. For example 3 mortars at the level 4 can kill a Colossus in 2 knocks by these 3 mortars. Protection of mortars recommend.
In conclusion,Mortar can easily takes out a group of low-speed ground units!
Traducción al Español
"Amamos las explosiones: ¡ la más grade, es la mejor ! ¡ Nuestros morteros brillosos y bombas preciosas harán seguramente que nosotros no dejaremos que ninguna unidad terrestre sobreviva ! "
Torre defensiva contra unidades terrestres. Cuando sus proyectiles golpean el suelo, ellos generan un daño enorme en la zona.

Consejos:

Esta torre es capaz para matar a los colosos (Colossus) con pocos tiros.
Es el rey para matar unidades terrestres.
No puede atacar unidades aeréas Aircrafts.
Debe estar al lado de un lanzador de misiles Missile Launcher, una torre laser Laser Tower o un francotirador Sniper Tower.
Actualmente, es la torre más cara y es la última que puedes obtener, justo después de la torre de enfriamiento.
Debido a que es la torre más poderosa Turrets, no puedes obtener mucha experiencia al destruirla.
Podria ser llamada la version terrestre de un Zepelín Zeppelin para defender (con un rango mucho más extenso)
Escondiendo esta destructiva torre detras de los edificios, puede resultar una sorpresa para cualquier atacante inconsciente (Si el o ella usa unidades terrestres en el ataque), poco saben acerca de la sorpresa cuando ellos dejan caer sus unidades en el campo de batalla.
Traduzione Italiana
amiamo le esplosioni: piu sono grandi piu ci divertiamo!

1. Questa Torre è in grado di uccidere un Colosso in un paio di colpi. 2. E' un esperto nell'annientare le unità di terra. 3. Non può attaccare le unità aeree. 4. Esso dovrebbe essere idealmente accoppiato con un Lanciamissili, una Torre Laser o una Torre del Cecchino. Oggi è la Torretta più costosa e l'ultima che si può ottenere, essa situandosi subito dopo la Torretta Congelante. 5. Perché questa è la più potente di tutte le Torrette distruggendola si guadagnano molti Punti Esperienza! 6. Si potrebbe considerare anche la versione di terra di uno Zeppelin per la difesa (con molta più gittata!). 7. Nascondere questa Torre distruttiva dietro agli edifici può risultare una sorpresa per qualsiasi attaccante inconsapevole (se lui/lei sta usando le unità di terra), non capiscono il motivo per cui muoiono le loro unità.
Expansions

To see detailed info on how to unlock each level, and the total amount of buildings
per Base level visit: Building Level Unlocks at Star Base's Page.

Level

1
5h
232,500
-
32,000
2,000
Area Blast
0.25/s
Ground
36x36
644
61
2
1d
465,000
279,000
40,000
2,400
Area Blast
0.28/s
Ground
36x36
1,648
145
3
2d
930,000
372,000
50,000
2,900
Area Blast
0.28/s
Ground
40x40
3,125
273
4
6d
11,160,000
4,092,000
60,000
3,300
Area Blast
0.33/s
Ground
42x42
 ?
3,233
Note: Mortar Level 4 requires: 1 Sphere

to be able to upgrade. (Click the icon to get more info)
Gallery
See Also