The events are limited time occurrences in which the gameplay is affected and gives the players special tasks which gives extra rewards upon completion.
Galaxy Life (2011-2016) events
Agame events
Those events were only available in the Agame version of the game.
Army Points event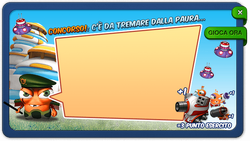 The Army Points event was an event that consisted in who trains the more quantity of units in a period of 5 days. Each unit upgraded, activated or trained, gave the player 1 Army Point.
The prizes given to the top players were:
Clash of the Star Bases event
The Clash of the Star Bases event was a limited-time event that started on 6:00 AM (EST), November 30th 2012, and ended at 4:00 (EST) December 3rd, and consisted on destroying as many enemies' Star Bases as possible. Destroying a Star Base granted the player 1 Kill Point. The players with the most Kill Points would earn rewards. Rewards were given on December 5th.
Once logged into the game, a popup message appeared saying the next:
"

Message from Major Wor:
A weakling, puny and a lame duck they call us! Chief, things are not going as we planned... sigh.... This is really disappointing, we are supposed to be fearsome! Mercyless! Coldblooded! Somehow we lost our touch. Alright, listen Chief. I know a way to bring fear into the hearts of your enemies and make them truly look up to you. You are simply going to have to destroy their Star Bases... Muhahahaaa! There are many galaxies, many planets, many Chiefs... but only a few can be truly ruthless and destroy most bases.

"



 

— Event popup. 
The prizes given to the top players were:
Top 1 to 5: 60 Galaxy Chips, 2 Skull Nukes and 5 Missle Rains.
Top 6 to 20: 1 Skull Nuke, 5 Missle Rains and 5 Boulder Strikes.
Top 21 to 50: 3 Missle Rains, 10 Mystery Cubes and 5 Colossus.
Global events
Doomsday event
Main article: Doomsday Event.
The Doomsday Event was a special event that started on Wednesday December 12th 2012 until Wednesday December 25th 2012. It consisted of the players' bases having to resist and repel a determined number of attack waves to obtain
The Magic Doll
from the
Golems
.
When entering the game, a popup suddenly appeared saying:
"

Worky went over the seasonal shop to find the most astonishing Christmas tree of the Galaxy. However, this time he bumped into an enigmatic hieroglyph written on stone, what secrets will this prophecy hold?"

"



 

— In-game event popup. 
Before starting the game, the player will be given a couple of items to prepare themselves for the attack waves. The items given were 5 Mighty Mines, 2 Attractors and 1 Potion.
After that, a timer was displayed telling the player when the next Golem wave was starting. If the player resist the attacks, they were given rewards such as a Mighty Mine.
If the player completed all waves, they were rewarded with 7 Thunder Golems, 10 Wind Golems, 10 Earth Golems and 10 Fire Golems.
Halloween event
Main article: Halloween Event.
The Halloween Event was an event that started on Thursday October 25th 2012, and lasted for 10 days until the 4th of November. It consisted of a determined number of attack waves, that the player must repel to obtain
The Relic
from the
Halloween Spirits
after a certain number of units are fought, or after 10 days.
In 2014, the event started on October 23rd 2014 and lasted for 15 days.
Trending pages
All items (5)
Community content is available under
CC-BY-SA
unless otherwise noted.