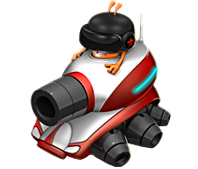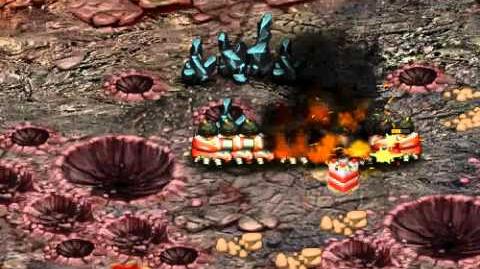 "

"Our mission in life is to get rid of our enemies. We are a force to be reckoned with!"
Die hard armored mechanical unit.

"



 

— in-game description 
About
The core of most armies that normally use by low level players.
Practically a bare-bones Colossus.
Cheap compared to health and damage.
Large health at the cost of low damage.
Low cost increase from level 6 to level 7.
Tips
Works best used in conjunction with high damage units, like Bazookas and S-trikes but Bazookas are easily destroyed by Units and Turrets.
Good distraction unit because of large health pool and turret's targeting system that makes them target mechanized units (units from Factories)
Best for use against level four or lower Star Bases
It is bad to use beetle tanks when attacking a air unit because bettle tanks can't shoot air and is also bad to use a beetle tank when attacking a powerful Cannon blast,Sniper tower and laser tower due to speed and damage.It is good to use Level 4 to 7 S-trikes when attacking those towers,but when you have those strikes,most of the players will use back bettle tanks.
Works good when with Swarm of Upgraded S-Trikes as they help make it faster to destroy.
Easily destroyed by Mortars as they deal Heavy cannons/damage.
It is not recommended to use only Beetle Tanks in a battle, even a Level 6 Bazooka deals more damage than a Level 7 Beetle Tank.
With Beetle Tank, never meet Freeze Turret level 2-4 because they have a bad pace and do not go very fast. A Beetle Tank serves no more has nothing against a Freeze Turret level 4.
Expansions

To see detailed info of how to unlock each level, visit Troop Level Unlocks
on Laboratory's Page.
| Level | | | | | | | | | | | |
| --- | --- | --- | --- | --- | --- | --- | --- | --- | --- | --- | --- |
| 1 | 4m 00s | 2,350 | 2500 | 200 | Area Blast | 0.5/Sec | Anything | Ground | 0.45 | 120 | 30 |
| 2 | 4m 00s | 2,600 | 2500 | 200 | Area Blast | 0.5/Sec | Anything | Ground | 0.6 | 120 | 30 |
| 3 | 4m 00s | 3,900 | 2500 | 250 | Area Blast | 0.5/Sec | Anything | Ground | 0.6 | 120 | 30 |
| 4 | 4m 00s | 5,200 | 2750 | 250 | Area Blast | 0.5/Sec | Anything | Ground | 0.6 | 120 | 30 |
| 5 | 4m 00s | 7,450 | 2750 | 300 | Area Blast | 0.5/Sec | Anything | Ground | 0.6 | 120 | 30 |
| 6 | 4m 00s | 11,150 | 3000 | 300 | Area Blast | 0.5/Sec | Anything | Ground | 0.6 | 120 | 30 |
| 7 | 4m 00s | 12,000 | 3700 | 350 | Area Blast | 0.5/Sec | Anything | Ground | 0.6 | 120 | 30 |
Gallery
See Also