Here is the template with the featured article for november/december 2013
Featured Article
Edit this template >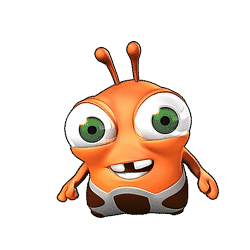 Starlings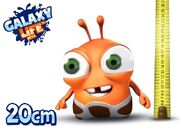 Starlings are the cute (but certainly not cuddly!...) civilization that you will help to rebuild their Empire. They live in a distant Galaxy scattered on numerous Planets. They are little cute guys that live on the planets you discover one by one as you upgrade your Observatory. They are all born from the Tree of Life and they are all orange, except Firebit's purple ones, Sparragon's green ones and Reptice 's blue ones. There have also been some pink female versions in pictures on the Facebook page for Valentines day etc, although they have never appeared in the game. They can be seen talking using emoticons on your planet sometimes. Some say that they are around the size of an apple, whilst others say 20cm. Some work in the Compact Houses and Mines that you build, and when you collect from these buildings the Starlings will come out and run to the Star-Base where they deliver their good which they carry in a sack o their back. they also wear a white helmet, this is the same design of the workers helmet. The difference however is obviously colour. They also seem to drink 'star coffee', This knowledge is gained from an ingame screen. The screen comes up when your internet connection fails, meaning you have to restart or, reboot the game. The starlings theselves reckon that this is due to spilled coffee. They live in Compact Houses, another interesting fact about starlings is that they are named after a bird in real life...
Traduccion al Español
Los Starlings son la civilización a la cual ayudarás para que reconstruya su imperio. Viven en una galaxia distante dispersa en numerosos planetas. Ellos son unos pequeños y simpáticos personajes que viven en el planeta que descubriste. Nacieron del árbol de la vida y todos ellos son de color naranja, excepto los Firebit que son morados, los Sparragon que son verdes y los Reptice que son azules. Ellos pueden ser vistos, a veces, hablando en tu planeta. Algunos dicen que, su tamaño es el de una manzana, mientras que otros dicen que es de 20 centimetros. Algunos trabajan en las casas compactas y minas que tu construyes, y cuando tu recolectas desde ellas, saldrán corriendo a la base estelar donde ellos entregan las monedas y/o los minerales, vistiendo un casco blanco y transportando los productos que llevan en sus espaldas.



Gallery
See Also